SEE WHY WE SHOULD BE YOUR CHOICE FOR FAIRFAX DENTAL CARE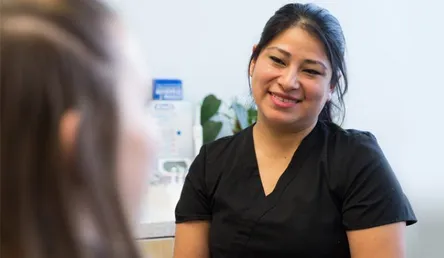 There seems to be a dentist on every corner of every street these days. So why should you choose Dr. Ki? For one, we offer a variety of dental services and love treating this diverse Fairfax, Va., community. Our staff is fluent in English, Spanish, and Korean.
Here are three reasons that definitely set us apart from the other options you may find.


Office Technology
When you choose Dr. Ki to be your dental health provider, you are choosing a dentist who is dedicated to giving her patients the highest quality care she can. You will see this demonstrated in the way she treats you, and also in the technological investments she has made in the office. Laura Y. Ki, DDS, PC is equipped with some of the latest dental technology available. From leading-edge diagnostics to soft-tissue laser and light-induced fluoroscopy to detect cavities early on, Dr. Ki is both personally and financially invested in the health your mouth.


Comfort Options
Your comfort while in our office is our top priority. Dental anxiety affects far too many people in our country, and the last thing we want to do is add to that number by not paying attention to how you feel. Through the use of local anesthetic, Dr. Ki can make sure that you feel nothing but slight pressure during your time in the dental chair. For those who feel they need a little bit more than what local anesthesia will give, we can also offer oral sedation. With two sedation levels, we can tailor your level to make sure you stay calm, collected, and comfortable during your treatment.


Convenience
Convenience is a trait that some overlook in searching for a dentist, but there is nothing better than getting what you want or need without having to jump through hoops. That is why Dr. Ki tries to make it as easy as possible to get your dental treatments done. We do this in two ways:
Services – With a comprehensive line of top-notch dental offerings, there is almost no problem that we cannot help you with. To see all the different ways we can help you and your family, check out our services and click on the one you want to know more about.
Payment Options – We make it easy for you to pay for the care you need. Whether it is working with your insurance company (we accept all major insurance providers) or helping you get in touch with specialty medical lending firms for interest-free financing, the staff here at Laura Y. Ki, DDS, PC will do all we can to help you take care of your dental obligation.

Call our office today at (703) 273-2545 to schedule your appointment. You can use our online form to schedule your appointment as well. One of our qualified staff members will be in touch as soon as possible.